G J Lines & Lines Brothers rocking horses - many examples are shown on this page including photos to help with identification...
This page shows many different examples of rocking horses manufactured by G J Lines & also the Lines Brothers.
Lines rocking horses were produced from around the same time as F H Ayres & were their main competitors in the rocking horse market at that time. Just as beautiful in their carving & quality but with a more feminine appearance than that of F H Ayres rocking horses.
The later Lines Brothers rocking horses perhaps don't have the finesse of the earlier G J Lines models, but are lovely in their own right with their pony like stature & friendly expression & were a popular toy in the children's nursery.
Please click on the below thumbnails to enlarge.
Please note, the rocking horses on this page are not available for sale. The photos are for your interest only. For rocking horses for sale - please look on the specific RockingHorsesForSale page in the main menu.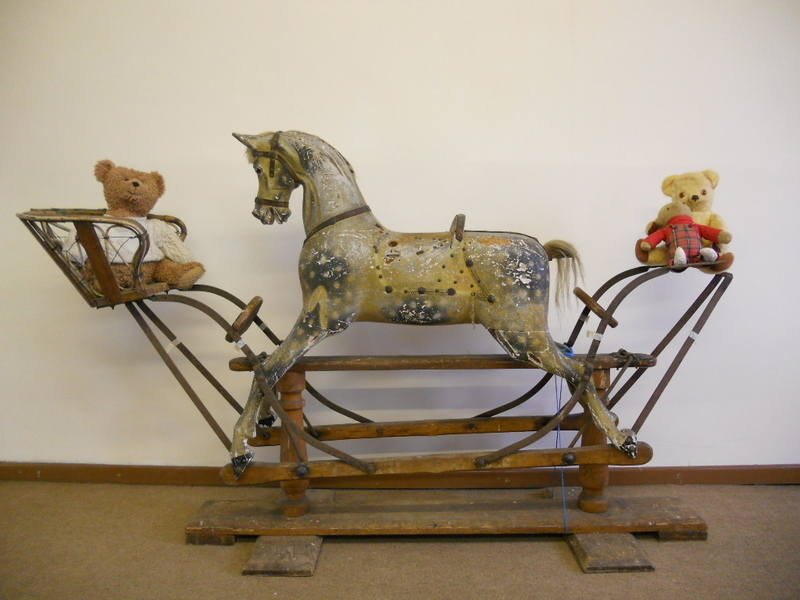 G J Lines Nursery Rocking Horse extra carved, shown here upon her swingstand which retains original metal work and one end seat.
She is in unrestored original condition. Note the extra carving on her neck & above her front legs to mimick muscle tone. She also has some extra carving to her legs which is partially hidden by the metal work to her stand.
Her rump is square in shape as is typical with horses of the Lines type.
You can see evidence of where her saddle cloths would have been attached and the metal rosettes and upholstery studs are still in place.
Also note her pommel hole near the top of her back. These holes will have been covered by the saddle flaps with a hole cut into the flap so that the pommel could be fitted to rest.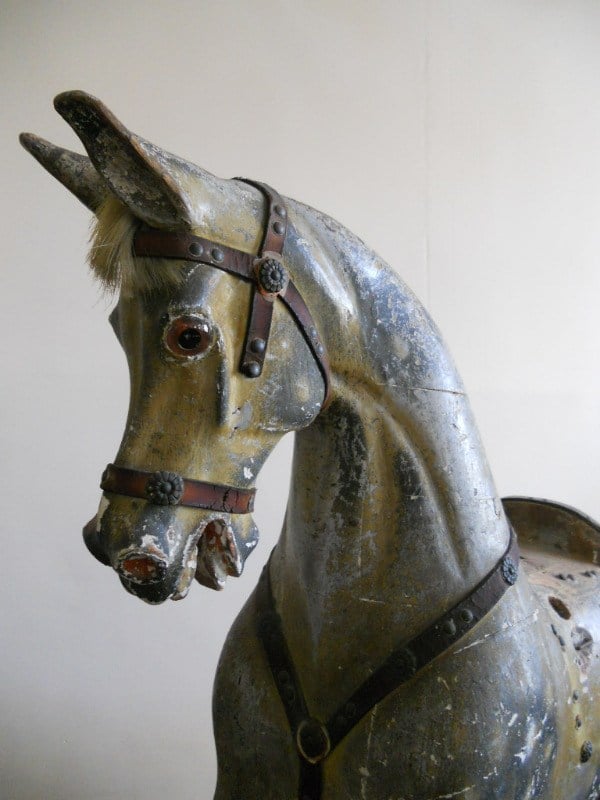 This photo shows exquisite carving detail to the head & neck of this G J Lines Nursery Rocking Horse. She has the typical feminine dished face with flared nostrils & a friendly facial expression.
Remnants of her original leather strapping can be seen on her bridle & martingale along with her original daisy style metal rosettes.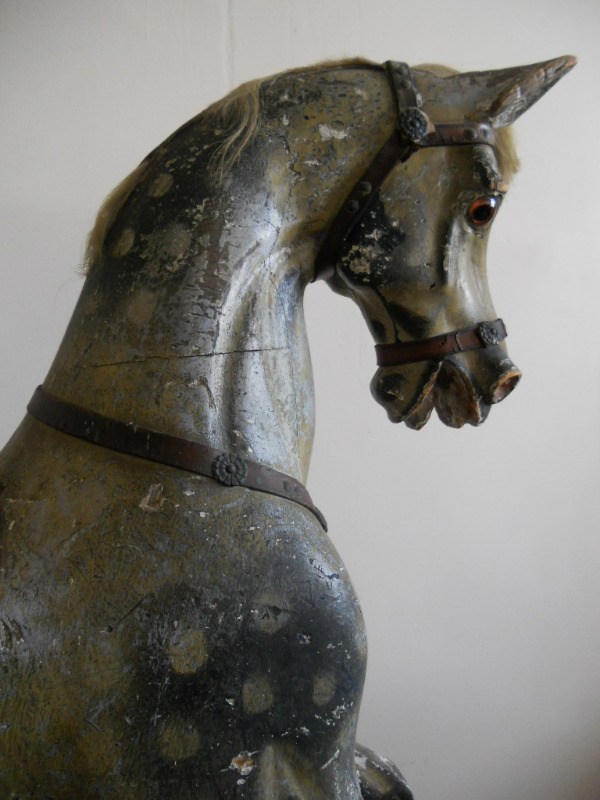 This photo shows the other side of her head & her dished nasal carving can be more clearly viewed. Her dapples on her shoulder are original as is her body paint and shellac.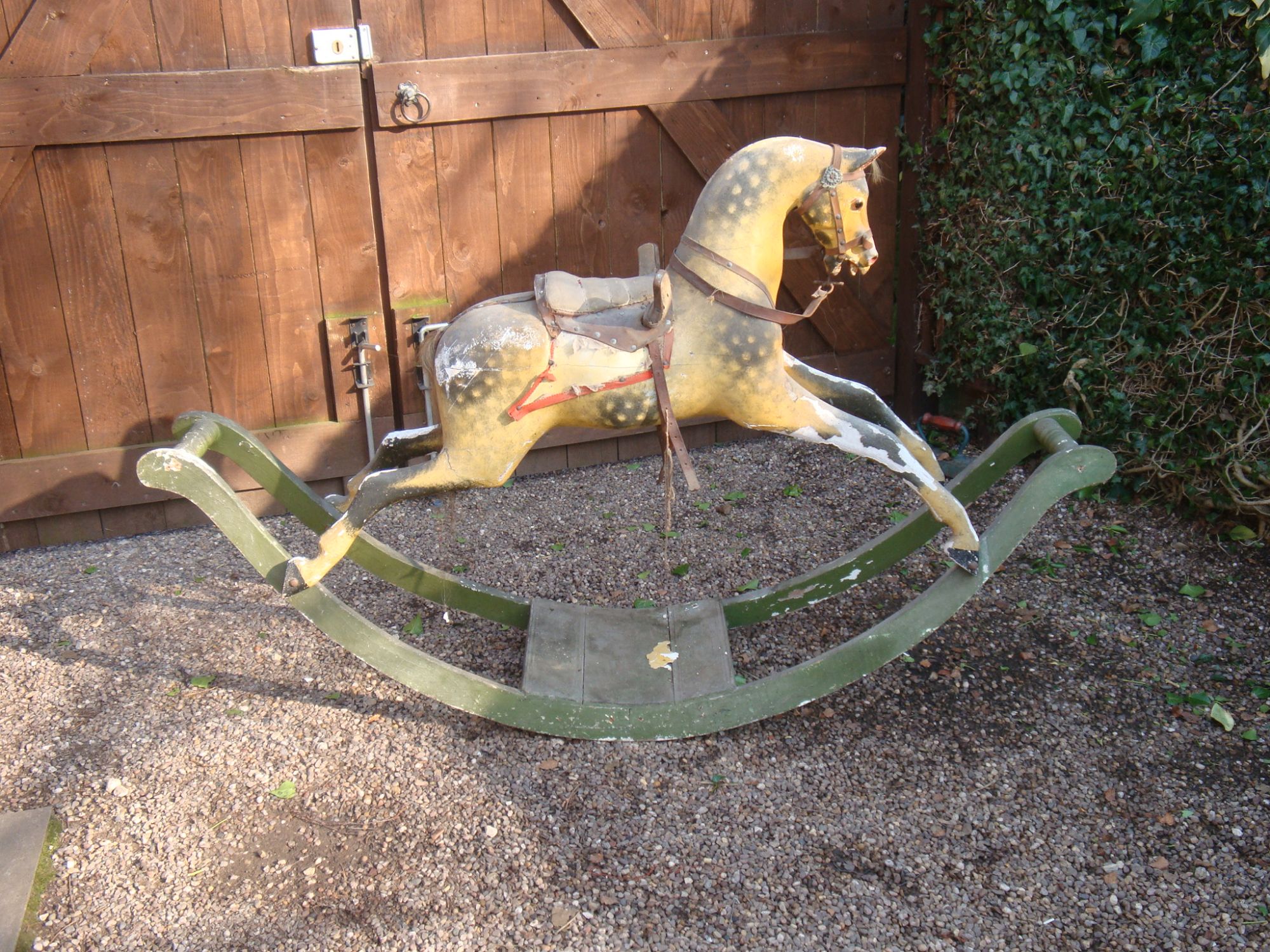 A fabulous example of an antique dappled bow rocking horse by G J Lines. Plain carved.
A really lovely horse with much originality including her saddlery, two pommels, metal mouthpiece / bit & fancy rosettes in tact. Some of the old fabric can be seen peeping through from behind the metal rosette near her browband on her bridle.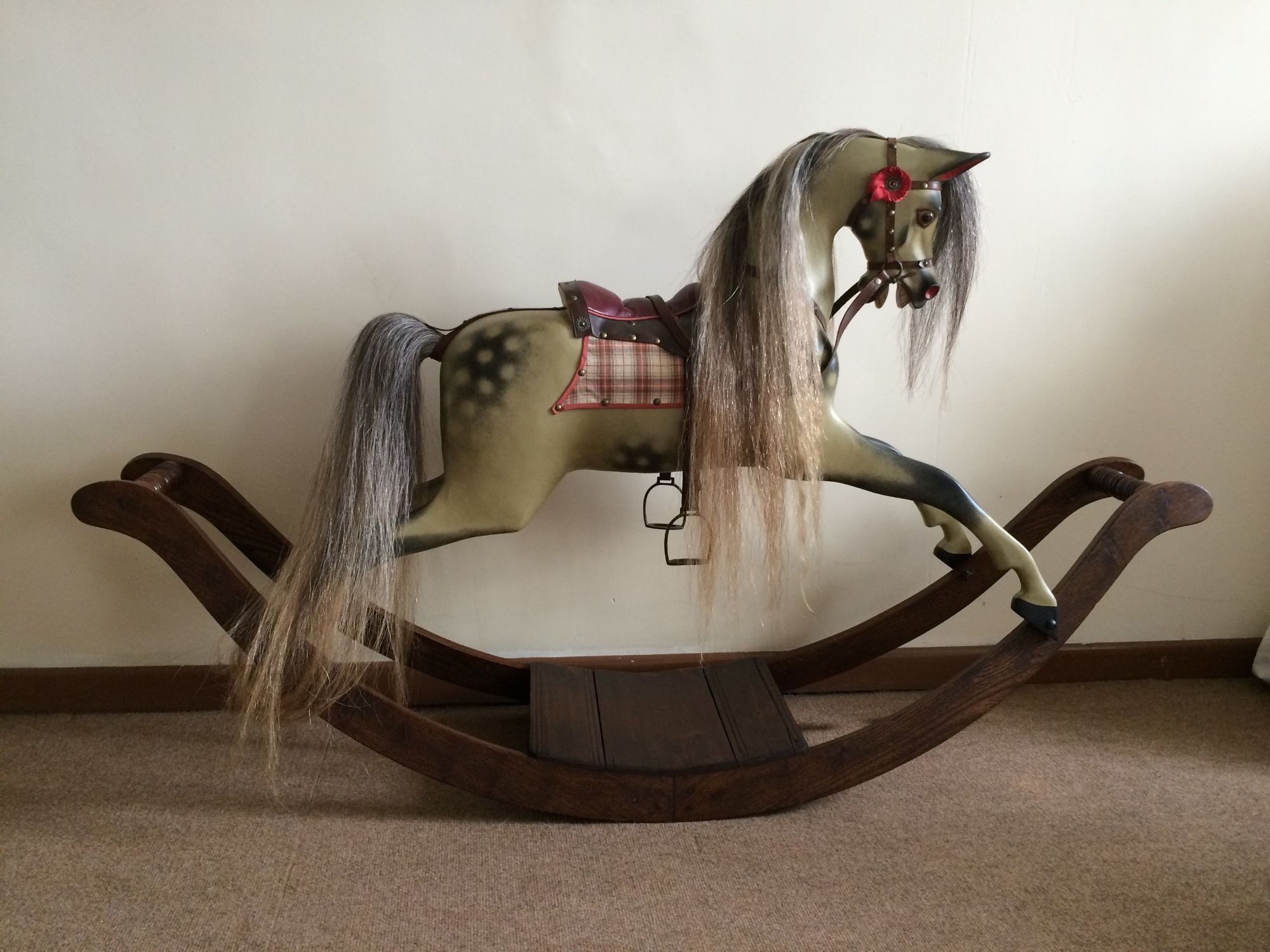 Restored bow rocking horse by G J Lines plain carved.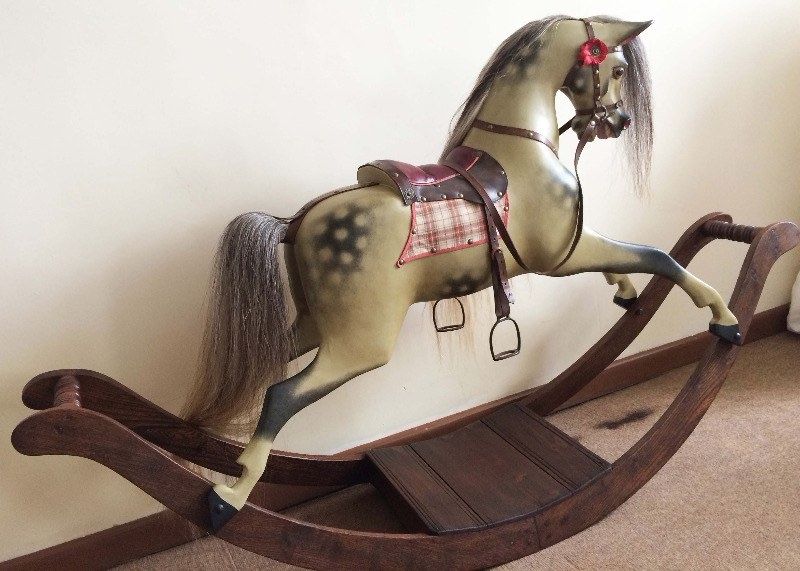 Restored bow rocking horse by G J Lines plain carved on original bow rocker.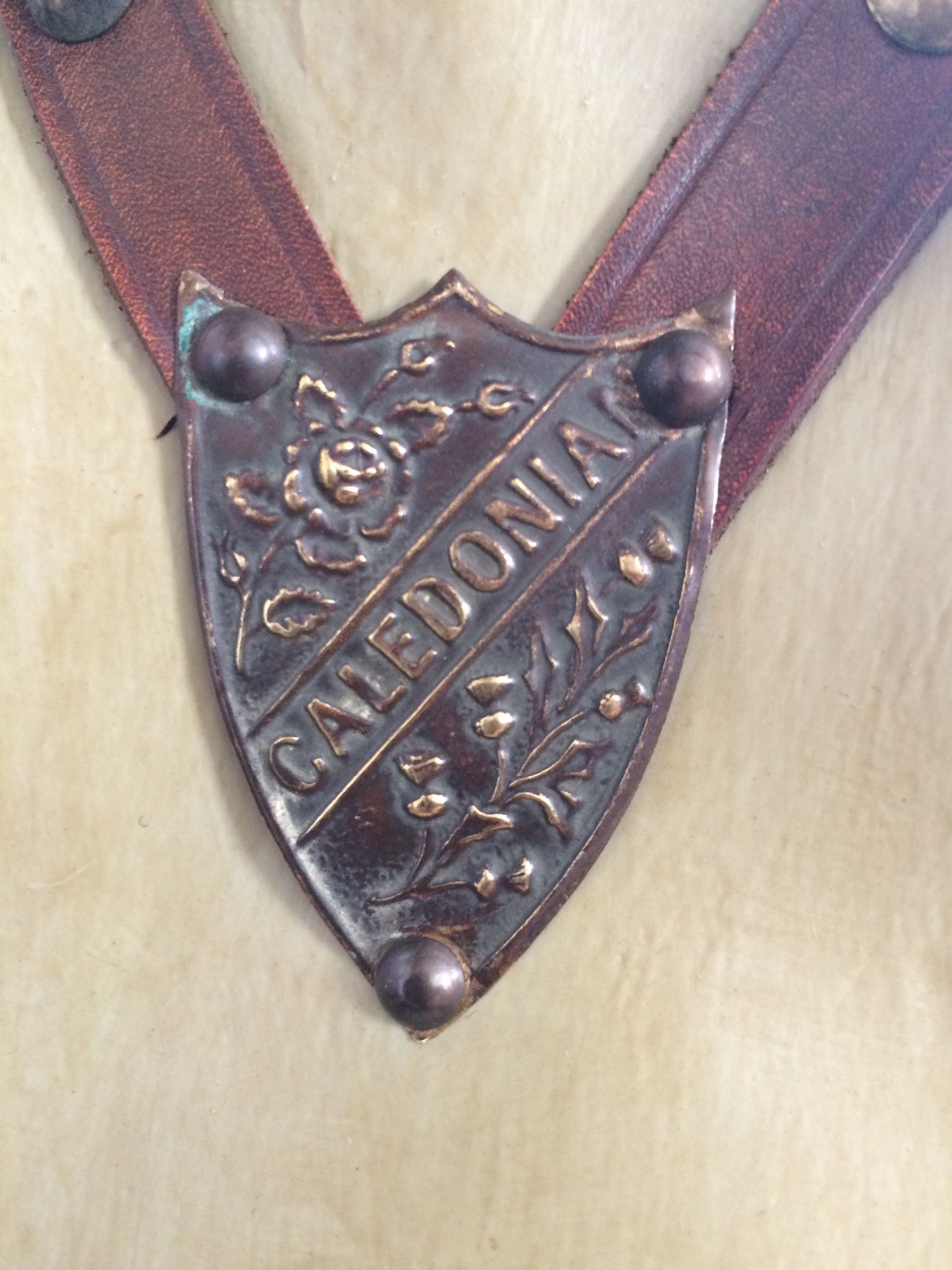 Original chest plaque with 'Caledonian' on this G J Lines bow rocking horse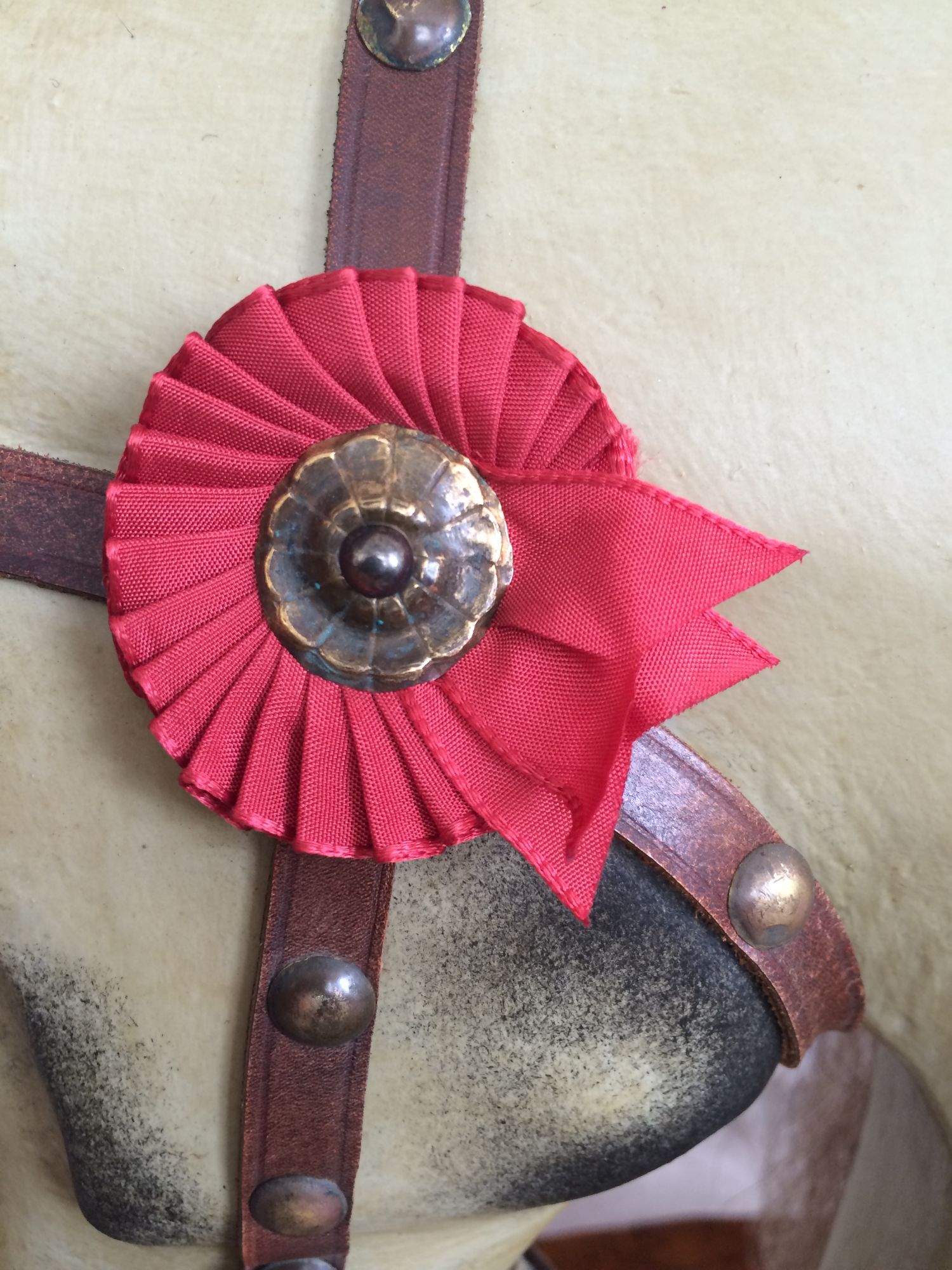 Original Daisy fancy G J Lines type nailhead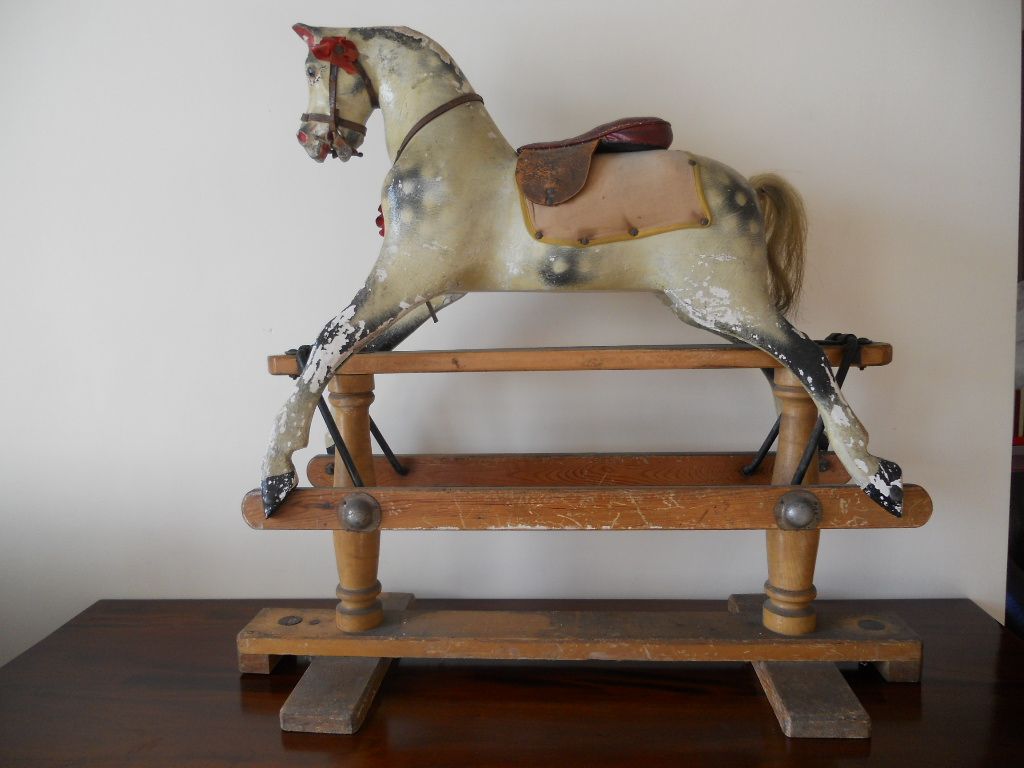 This photo shows a small Lines Brothers Sportiboy rocking horse in unrestored original condition.
She retains her original saddle & cloths, Metal mouthpiece / bit and fabric rosettes.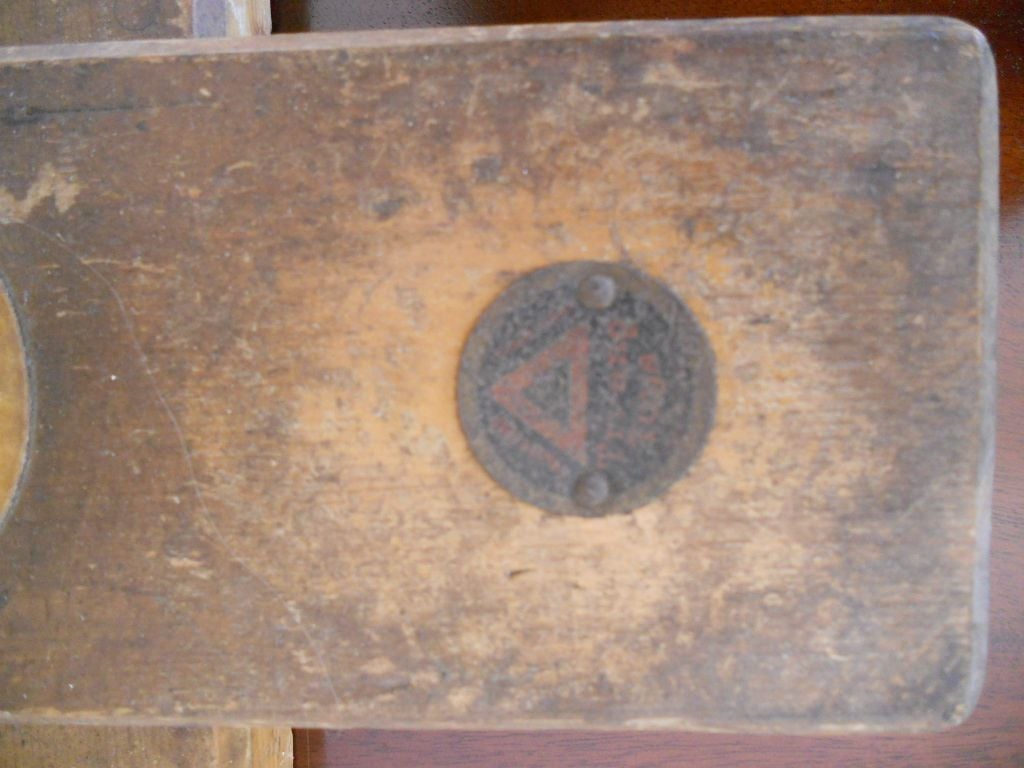 The original Triang Toys badge still intact on the stand of this Sportiboy Lines Brothers rocking horse.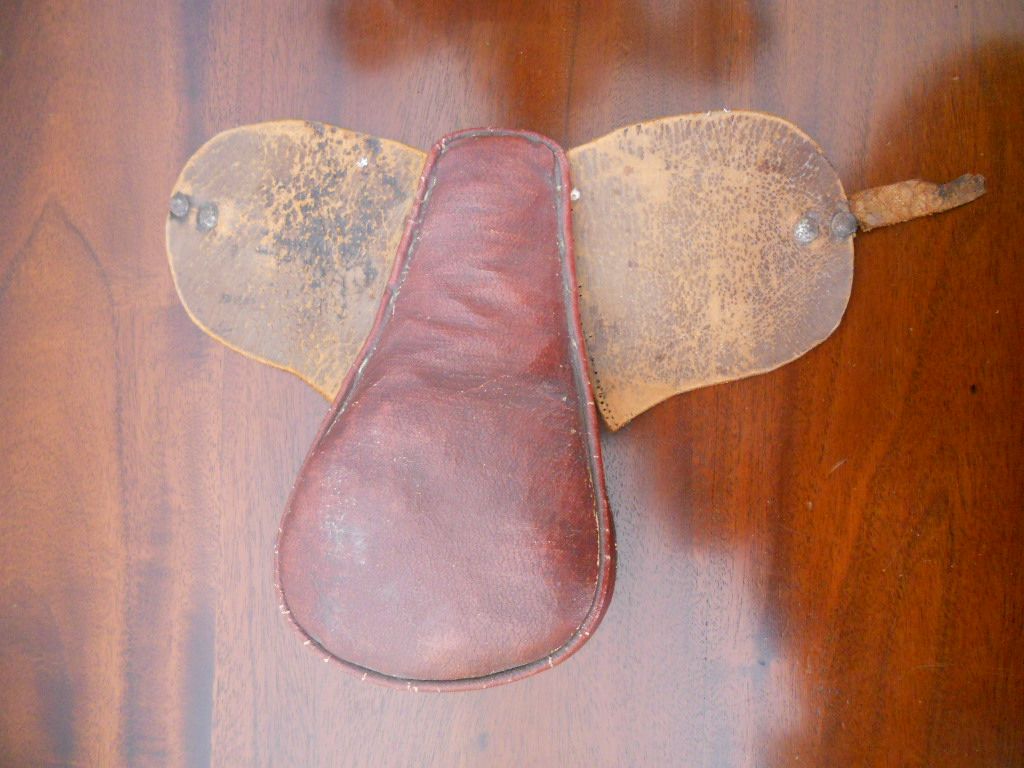 Original Lines Brothers Sportiboy removable saddle.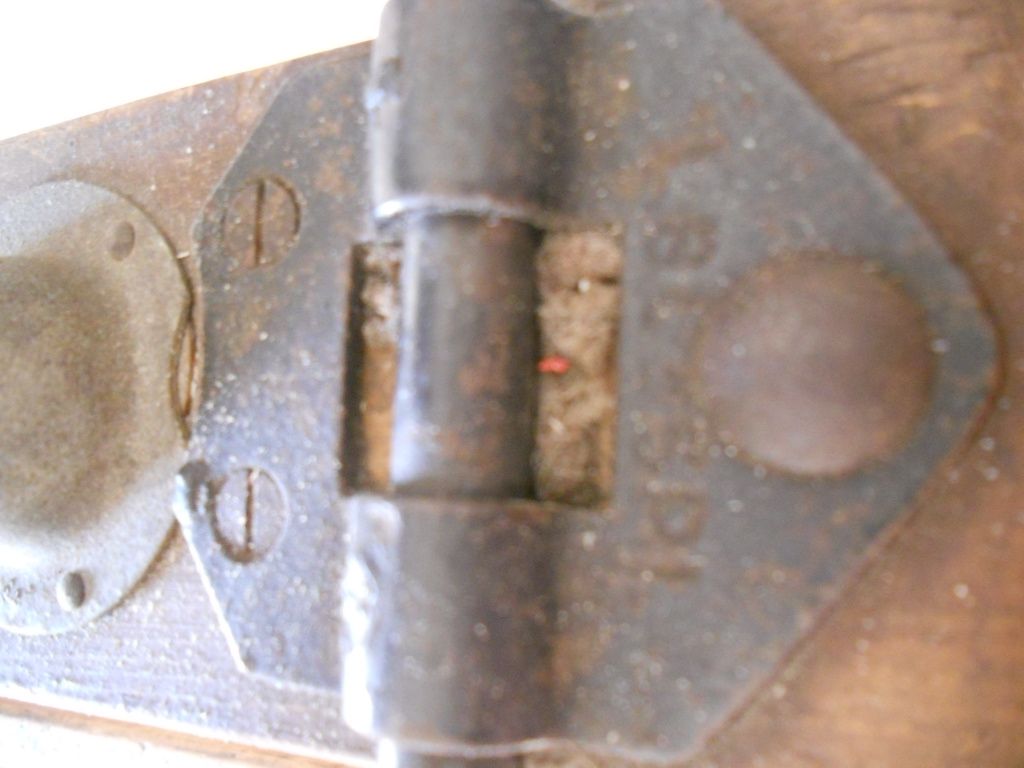 Lines Brothers original swing stand bracket & bowler cap.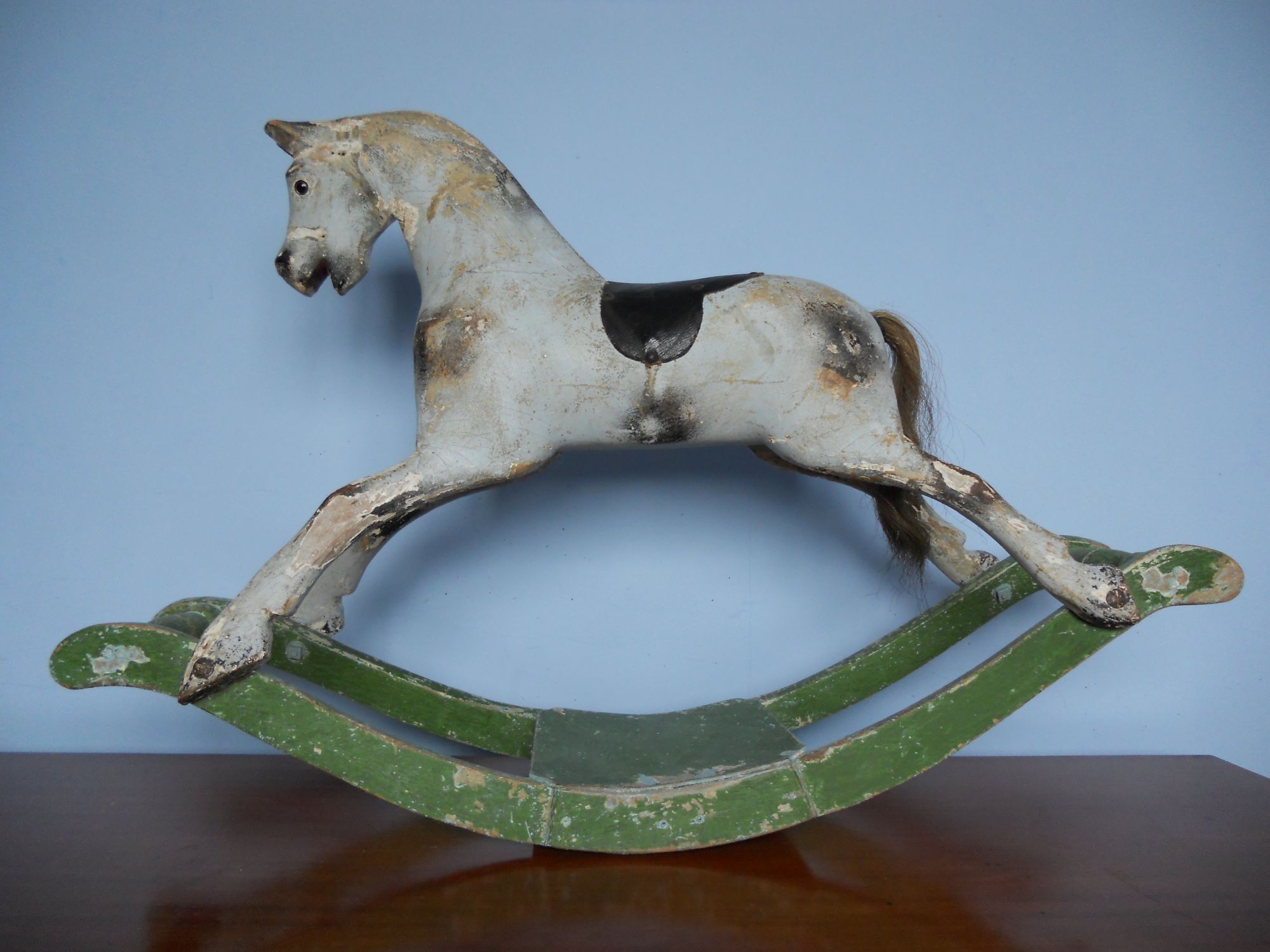 A 00 size Sportiboy bow rocking horse the smallest size they made! shown with his blue base coat and dapples.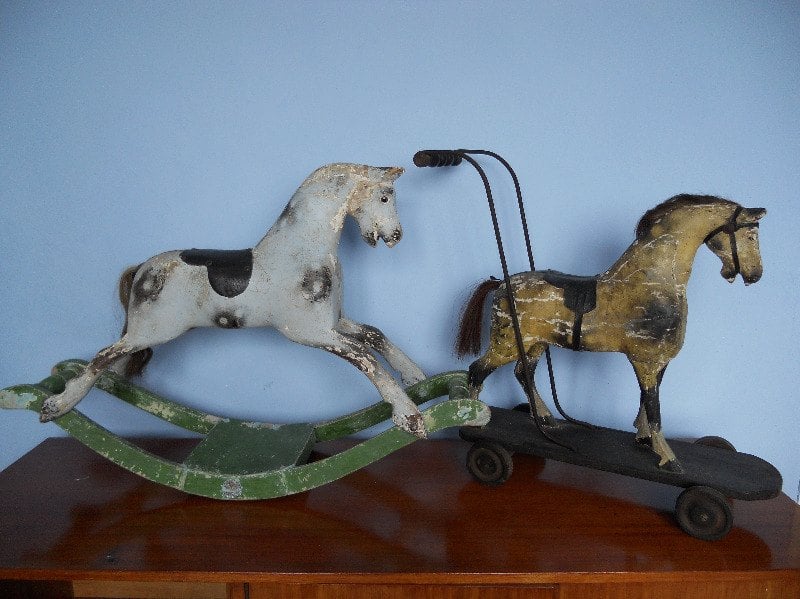 The other side of this 00 Sportiboy Lines Brothers Rocking Horse.
His round metal manufacturers plaque can just be seen on his bow sides near his deck.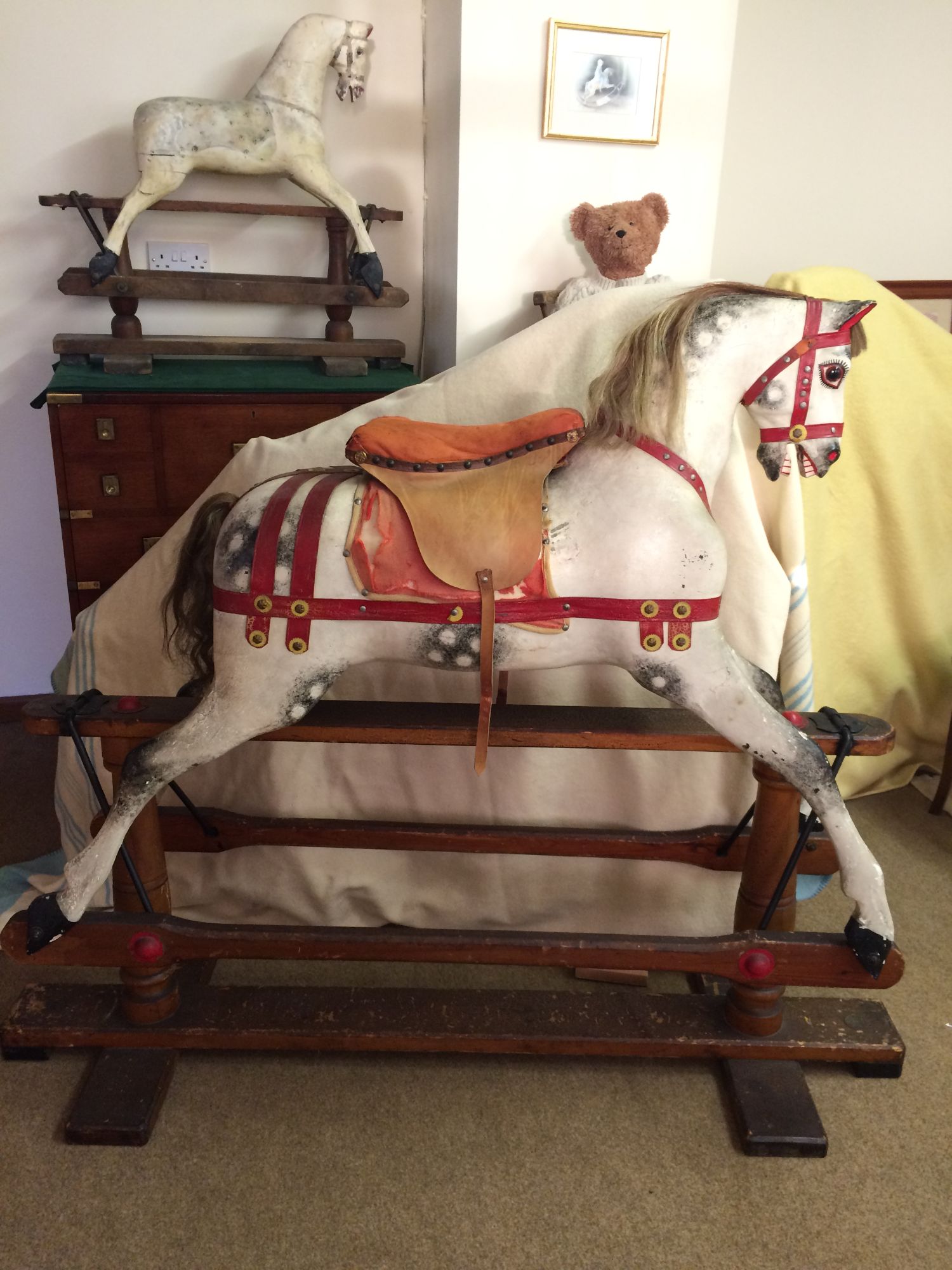 A Large Lines Bros Rocking Horse with Medieval style saddle & strapping.
The paintwork on this horse is not original but a later overpaint and the saddlecloth has been put back on the wrong way round!