SOLD ~ Tito Unusual wood Bow rocking horse on bow rocker - for restoration or as an interior piece to be enjoyed as he is.
'Tito'
A very unusual large bow rocking horse for sale.
He has some nice extra carving to his legs & realistic rounded hooves. I haven't seen another like him.
He has a really lovely elongated friendly face and flared nostrils.
His saddle is genuine leather and his mane & tail are horsehair.
His sale will be helping to support a local charity who do a lot of good work supporting the homeless & outreach work to the vulnerable including ex - servicemen. He could do with a little TLC, to include some replacement slats of wood on his deck area and he has some movement to one of his front legs which could do with re-gluing & clamping.
He is priced very cheaply for a horse of this size of approx 4 ft high & his extra carving, which will enable someone to make a profit on him once works are done, or he can equally be enjoyed as he is as an interior piece.
Limited time offer in present condition of £750.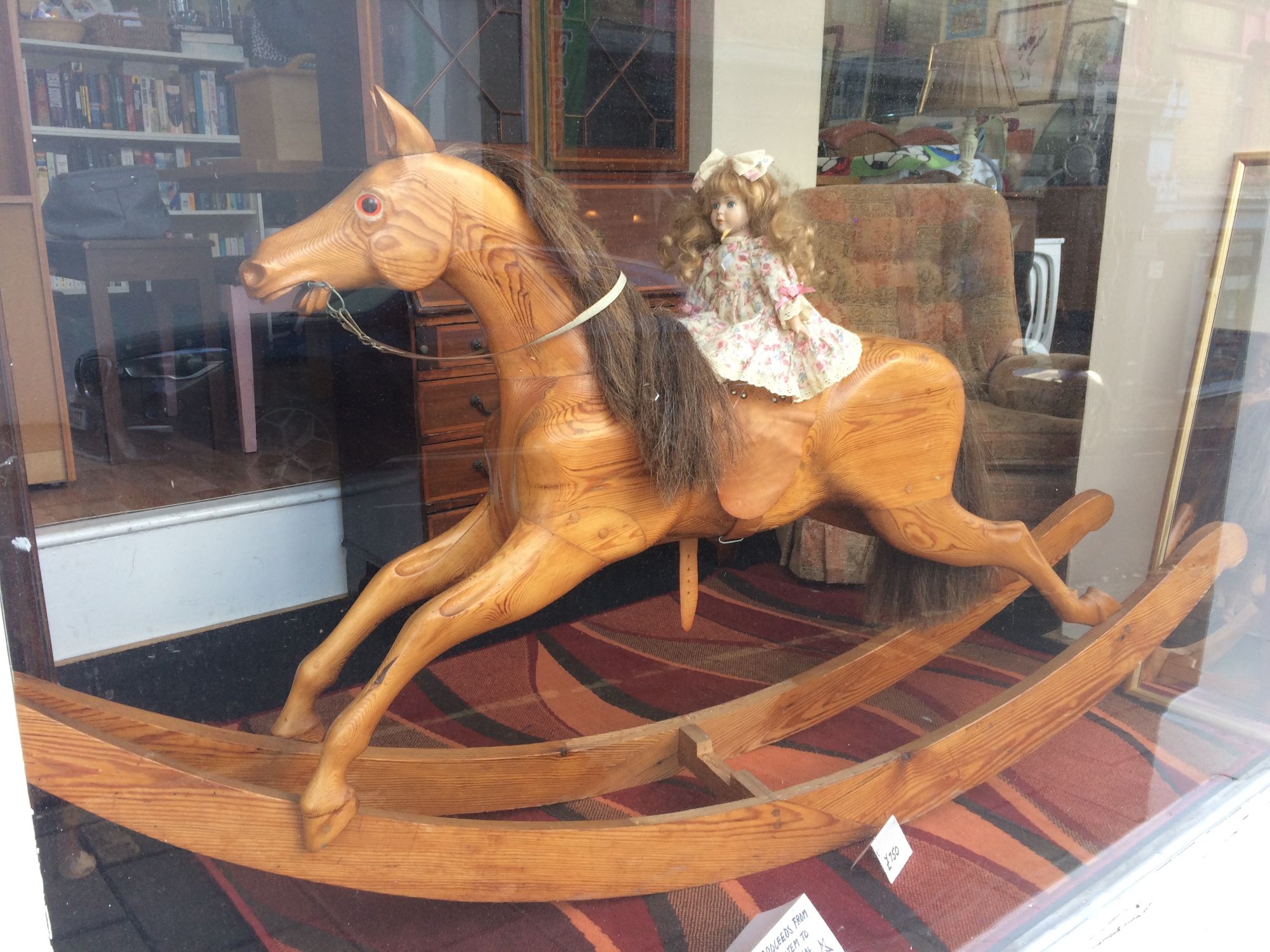 'Pickles'
A wonderful example of a Nursery Rocking Horse by the Lines Brothers - his restoration nearly complete Quite a rarity, this is the only example that i am aware of.
He has three original bakerlite type badges which read 'House Furnishers- Biddock & Co Bridgewater & Burnham on Sea'.
He has one to his stand base & the remaining two fixed to the underside of each of his original wood nursery seats.
He is a lovely smaller size nursery rocker and will comfortably fit into the more modest of homes, unlike some of the larger size nursery rockers available that need a lot of space to accommodate them.
His measurements are: 37.5" high to his neck
Overall height including his end seats 41.5"
36" hoof to hoof
21" body length (shoulder to rump)
67" overall length including chairs.
The photos below show Pickles before his restoration started and progressing towards full restoration.